Rosary Altar Society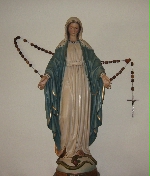 St. Catherine of Siena has a Rosary Altar Society for the women of the Parish. The group meets the third Wednesday of the month at 7:00 P.M. with the exception of the summer months. The meetings begin with group recitation of the Rosary in the Church, followed by a business/social meeting held in the Parish Hall. Various projects are undertaken throughout the year to raise funds for charitable endeavors. Bake sales, speakers, and social functions are some of their activities.
For further information, contact Mary Jean Tillett at Rosary@sienachurch.org or the Parish Office at frontoffice@sienachurch.org .